Learning is an adventure!
At BRIGHT STAR , your child discovers the joys of learning in a happy, secure and totally non-competitive atmosphere.
We encourage creativity and curiosity. As the children begin to explore the mysteries of the beautiful world around them, an excitement is created which is the foundation of learning. This enjoyment will last a lifetime!
We believe in letting each work individually at his or her own pace. Learning is geared toward the interest of each child. Individual attention is given to those who have special needs and to the gifted learner. The highest standard of child centered education will be offered to fit each child's learning style. We also specialize in working with families that have concerns dealing with adoption and languages other than English.
We are helping to ensure that every child's Bright Star will shine!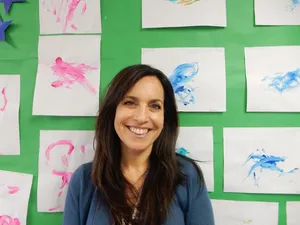 Lori Bader - Director Of Education
Lori Bader has been the Educational Director of Bright Star Academy for over 20 years. Lori has a Bachelors of Science Degree in Elementary Education and a Masters of Science dual degree in Early Childhood and Elementary Education. Lori has had extensive experience teaching ages birth- sixth grade, and specializes in Early Childhood. Lori has been involved in the community such as past PTA president, Juvenile Diabetes Research Foundation and volunteering in a reading program in the Freeport School District. Lori was awarded the Nassau County Volunteer of the Year Award for her community service. Lori continues to grow as an educator by attending classes, conferences and workshops.
Lori councils families with anything from "potty training" to assisting families with the process of evaluations for special needs, the gifted learner, behaviors and everyday parenting.
Lori serves as a mentor and trainer to her staff. She mentors new teachers and collaborates with her staff to create a wonderful program where children are able to flourish and start their journey on a lifelong love of learning and discovering.
Bright Star Program
Bright Star Academy is a licensed Pre-School in Oceanside, New York. We have extended hours to accommodate working families. Our hours of operation are: 7:00am-6:00pm (Monday-Friday). We have nine classrooms, which include ages eighteen months through five year olds. We follow New York State Early Learning Guidelines, New Yore Common Core Standards and align our curriculum with the Core Body Of Knowledge. We follow regulations from our licensing agency-The Office of Children and Family Services. These regulations can be found on the Office of Child and Family website and a copy is always kept in the office. We are currently licensed for 24 toddlers and 55 preschoolers and 16 school aged children. We have certified head teachers in each classroom and trained teacher assistants. There are several students at Bright Star Academy that are receiving scholarships. Bright Star does not turn down any families because of their inability to pay. We offer Armed Forces free temporary day care as well.
At Bright Star we believe that every child can succeed. We have many special needs children and offer individualized curriculum to meet their needs. We work with therapists and families so that each child will be in an environment where they can achieve goals. Our curriculum is child centered and each activity revolves around the child, giving him/her concrete experiences where they can build on prior knowledge and gain new ideas and concepts.
Bright Star Academy does not discriminate against any sex, race, religion, ethnicity, culture or beliefs. Bright Star Academy celebrates diversity and this is evident in our daily classroom environment, curriculum and the general climate of our school. Bright Star Academy has rolling admissions until the classes are filled. Admission to Bright Star requires and interview/tour, completed medical (with up to date immunizations), completed child information sheet, signed policy and contract, tuition deposit, completed health care plan for a child with special healthcare needs.
Although our reputation is that of an academic program, we strongly believe in socialization, the value of communication, interpersonal skills and respect for our physical and personal environment. It is in our social studies curriculum where we explore our feelings/emotions and the world around us. We teach the children by example to be respectful and to take responsibility for their belongings and actions. Our toddlers are able to throw away their plates and napkins after snack and use utensils when eating. If they are verbal they are taught how to use manners, such as please and thank you. Our multi-cultural curriculum includes tolerance, kindness, patience and respect. At Bright Star we discuss turn taking and have lots of toys and manipulatives to keep the children interested and excited about learning.
Our curriculum includes a full music and movement program as well. We have a music teacher coming in to teach the children new songs and dances. The teachers also use a variety of musical instruments, bean bags, rhythm sticks, parachutes and balls to incorporate in their own movement and music program. The children have outside play twice a day weather permitting or use our auditorium when there is inclement weather.
We provide our students with a healthy snack twice a day. If the student is staying for lunch he/she provides their own lunch. We adhere to all dietary restrictions that any of our children have. We are also a peanut free environment. We discuss healthy eating and living guidelines in our curriculum. Our staff is trained in maintaining a healthy and safe environment for all of our children.
When training our staff, we focus on real issues and everyday occurrences such as reviewing our sick child policy or behavior modification using positive reinforcement. We have all been fingerprinted, have C.P.R. and most have first aid training as well. We have several staff members that have Medication Administer Training so we are able to administer medication to a child that has proper documentation when needed. We are also mandated reporters and are trained in how to report any incident.
An important part of our program is Parent-Teacher/Administrator communication. Our philosophy is that we work as a team with our families to have success in the classroom and at home. Each child is assessed daily during our lessons, weekly and monthly. Progress reports are sent out twice a year with a full written assessment of each child. We also use portfolio assessment to assess each child with examples of their artwork, anecdotals and samples of written work. Each piece is dated and kept on file for the year. We also use a formal research based assessment called "Brigance". We set up conferences when needed and are always available by phone if a conference is not convenient. A formal written request of a conference is given out twice a year following the progress reports.
We communicate with our families via weekly and monthly newsletters. We have daily sheets sent home daily that let the prime caregiver know how their child's day was, what they ate, if they had a bowel movement and if they had a nap. Many times these are invaluable to working parents.
The climate in and out of the classrooms at Bright Star is upbeat, nourishing and full of activity. We strive to maintain the highest level of education while giving our families and children a strong foundation in the community as well as to begin their formal years in school.
Philosophy and History of Bright Star Academy
Bright Star started in the living room in a private house in 1981. Shortly after more space was needed and Bright Star moved into a neighborhood church in 1984. At this time Bright Star had three classrooms, which we outgrew within a few years. In 1990 we moved into a new building. We had 5 classrooms and an indoor and outdoor play area. In 2013, after Hurricane Sandy Bright Star Academy had to be relocated. We currently have 9 classrooms and indoor/outdoor play areas.
Bright Star's philosophy is that each child should have a good self-image and have confidence in him/herself. The children should also have a positive outlook on learning and school, which will enable the children to have success in his/her future. We believe in a child centered environment that meets the individual, group, and community needs. Our philosophy ensures that each child is treated as an individual with respect. Throughout the years we have developed a relationship with our community. We use New York State Early Learning Guidelines and the Core Body Of Knowledge in developing our curriculum as well as follow the regulations by our licensing agency.
We believe in letting each child work individually at his or her own pace. Learning is geared toward the interest of each child. Individual attention is given to those who have special needs and for the gifted learner. The highest standard of child centered education will be offered to fit each child's learning style. We also specialize in working with families that have concerns dealing with adoptions and languages other than English. We engage in a multi-cultural, diverse curriculum with emphasis on learning about the world around us. We teach kindness, appreciation and tolerance of others.
Each class has its own age appropriate curriculum. Each year the curriculum changes to meet the children's needs. The teacher is given themes for each month by the Educational Director. The Educational Director goes over these themes with each teacher, and they discuss if the themes are meeting the children's needs. After the Educational Director and teacher discuss the themes, the teacher then creates lesson plan that align with the core body of knowledge. The Educational Director reads this lesson plans and then has a meeting with each teacher to discuss the lessons, projects and objectives for the month. After each class curriculum is reviewed the Educational Director meets with all the teachers to brain storm and discuss the month's activities, parties, special events and to share ideas. Each year the curriculum will change according to the needs of the community & children.
Parent and family workshops, communication on activities in our community, fundraising and parent participation in various events will be communicated to our families via email and/or written letters home. School Orientation, Open House, Fall Festival, concerts, graduation and picture day will be open to all families.
Throughout the years the directors have planned and implemented a staff manual. Extensive research is done so that all the policies written are in accordance with Day Care regulations and change according to the times. Procedures follow the policies and staff are trained continuously throughout the year. Workshops and staff development are performed each year using this manual. The staff also does training through different educational outside organizations and online courses.